When I was first learning about herbs, I didn't have a computer. Back in my day, all we had were books.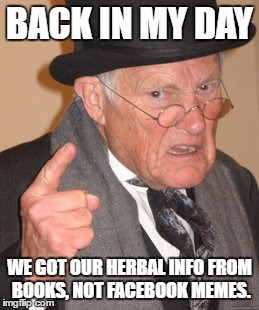 The internet has been both a boon and a curse for herbalism. On one hand, there are websites with extensive collections of early medical books and herbal books, access to scientific studies on herbs, and articles on herbs and crafting herbal medicine by skilled herbalists. There are loads of YouTube videos with tutorials on herbal skills and plant ID. The best part, the vast majority of it is all free.
On the flip side, we also get the clickbait sites with unsupported articles and wild claims of cure-alls. The worst are the Facebook memes. These things just won't die- like the onion slices in a sock that cure everything from the flu to pneumonic plague, and how coconut oil cures literally everything.
Recommended Reading for Herbalists
Thankfully, we have lots of wonderful, well-researched, and well-written herbal books today, many more than was available when I was learning. I have put together a list of what I consider "required reading" below.
Anatomy and Physiology
Botany and Plant ID
Herbalism- General
Herbalism- Traditions
Infectious Disease
This is far from an exhaustive list, but it is a solid start. I will be revisiting this post periodically to update it, so be sure to bookmark it. Or, join my newsletter to be notified of updates like this in your email inbox.
One last point that I want to make… While the internet is awesome in so many ways, the power grid and access to the internet is not a given. Both physical and cyber attacks on our electrical grid are a real threat. Every day North Korea gets closer to being able to pull off an EMP attack on the United States. What's worse, is that we are woefully unprepared, as Ted Koppel lays out in this book, Light's Out. For this reason, I prefer and recommend that getting physical copies of books whenever possible.